Job Searching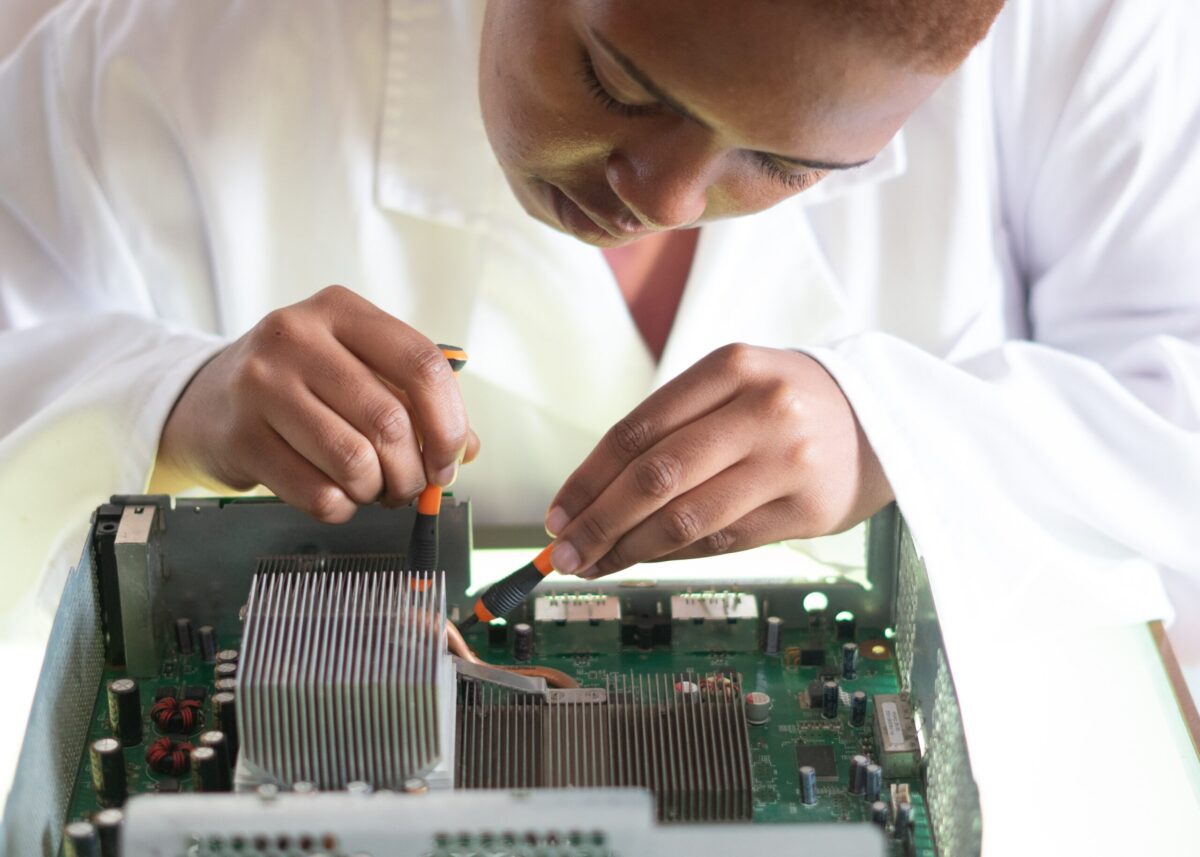 How to Ace the Interview and Land a Job as an Electrical Engineer
June 1, 2023
An electrical engineering career can be fulfilling, with gratifying work being done daily. But did you know that it is also one of the most booming industries in the job market right now? According to the U.S. Bureau of Labor Statistics, there is a 7% growth outlook for electrical engineers for the next ten years, which is higher than the national average of 5%.
The interview process may prove to be somewhat daunting for some candidates. However, with the right tools, it can be a fulfilling and rewarding opportunity to showcase skills and secure their dream position.
Keep reading to learn how to excel in an electrical engineering interview.
Research the Company and Role
Interviewing and accepting a new position is a life-changing decision and should not be taken lightly. That is why it is important for job seekers to research a company before applying. LinkedIn found that 71% of job seekers research the company they are considering before they even apply. This means that 29% of job seekers do not, which can be detrimental to their success in the interview.
By researching the company, job seekers can build their knowledge about the company to relate to the work that they will be performing.
Here are some questions that a candidate could ask to get a better insight into the role:
Will I be required to complete a Fundamental of Engineering (FE) exam during my time at this organization?
What type of computer-aided design (CAD) software will I be using?
Could you give an example of a project that I would be working on? What type of design work will it require?
In addition to the mission statement, products and services, candidates should also research the company's culture and values to see if they align with their own. This information can be useful in tailoring questions and responses during the interview.
Here are some questions that can be asked during an interview to learn more about the company's culture:
Are there any career development programs available to employees?
How would you describe the management style in this department?
What are some highlights of working here?
Asking these types of questions can give a great insight into the culture of the organization and learn more about overall satisfaction which can greatly impact the decision of committing to a position.
Highlight Skills and Qualifications
Having strong skills can make any candidate stand out in the interview process. Many organizations depend on the skills that a job seeker brings to the table. TestGorilla found that 76% of employers use some type of skills-based hiring when conducting interviews and considering different candidates for a role. Employers often seek candidates that possess a solid foundation in electrical engineering-related technical skills when hiring for these types of positions.
Some technical skills that an employer may be looking for include:
Computer-aided design (CAD) software
Python
Circuit design
High level of math knowledge
While technical skills are very important for electrical engineers to succeed in their positions, soft skills are also necessary. Soft skills are the attributes that allow workers to effectively work with one another and communicate information properly.
Soft skills that would be valuable to an electrical engineer include:
Time management
Problem-solving
Teamwork
Attention to detail
If a candidate does not currently possess these soft skills, they should consider offering their services to different projects to work to improve them. Candidates can also develop these skills through coursework or professional development publications.
Review Technical Concepts and Industry Trends
As an electrical engineer, it's important to stay up to date with the latest technical concepts and industry trends. This can help candidates demonstrate expertise during interviews and show that they are committed to ongoing learning and development in the specific industry or field of electrical engineering.
A job seeker can stay current by reading industry publications, attending conferences and workshops and participating in online forums and discussion groups. Job seekers should consider discussing any recent innovations or trends in the interview so they can demonstrate their engagement with the industry.
Prepare a Portfolio of Relevant Projects
A portfolio of relevant projects is an excellent way to showcase experiences and skills to potential employers. When selecting projects to include in a portfolio, candidates should focus on those that directly relate to the job description and highlight strengths.
For each project, candidates should be sure to include specific details about the role and their contributions. This can help the interviewer to understand their level of expertise and how the candidate could contribute to their organization.
Here is a list of things to consider adding into a portfolio:
Sketches of projects
Graphics
Writing samples
Full reports of previous projects
Updated resume
By including a portfolio in their application, job seekers can stand out and showcase their skills and abilities to the employer.
Demonstrate Confidence and Professionalism
To make a strong first impression, it's important to exude confidence and professionalism throughout the interview. Twin Employment found that a lack of confidence is why 40% of interviewers don't push a candidate past the first interview in the hiring process.
Here are some ways to demonstrate confidence in an interview:
Make eye contact
Listen attentively
Avoid fidgeting
Have strong and confident answers
Another way candidates can demonstrate professionalism is to be mindful of their body language. They should avoid fidgeting, slouching, or crossing their arms, as these can signal discomfort or defensiveness. Instead, candidates should sit up straight, lean forward slightly and use open and friendly gestures.
Having confidence and exerting it can be a struggle.
Here are some methods that candidates can do to improve their confidence as an electrical engineer:
Don't compare yourself to other engineers
Understand that not everything will come naturally
Always be open to constructive criticism
Experiment and don't give up when you fail
Candidates that implement some of these practices can greatly improve their self-esteem, interviewing skills and overall work ethic.
Showcase Problem-Solving Skills
Employers often value problem-solving abilities, so candidates should be sure to showcase their problem-solving skills during interviews. One way to do this is by providing examples of how they have solved problems in the past. Candidates can talk about a difficult project they completed or a complicated coding challenge they overcame. By sharing experiences, a candidate can show the interviewer that they have the skills necessary to tackle complex problems.
Another way candidates can showcase their problem-solving skills is by using the STAR method. This method involves describing a Situation, the Task that was given, the Actions taken and the Results that were achieved. By using this method, job seekers can demonstrate their problem-solving abilities in a clear and concise manner.
Follow-Up After the Interview
After the interview, it's important to follow up with a thank-you note or email to express appreciation for the opportunity to interview. This not only demonstrates professionalism and continued interest in the position, but can also make a strong impression on the interviewer. Topresume found that 68% of employers say that it makes candidates stand out when they send a thank-you letter after an interview.
If a candidate hasn't heard back within a week or two, it's appropriate to follow up with a polite email or phone call to inquire about the status of the application. It is important to know that hiring managers have many other responsibilities and constantly sending them messages about interview statuses can have a bad look on the job seeker.
—
In conclusion, acing electrical engineering interviews requires dedicating time and effort to the process. Through thoughtful preparation and successful execution of the interview process, you can showcase your technical knowledge and interpersonal skills and secure your dream electrical engineering job position!
Are you looking for your dream engineering position? Check out STEMHUNTER, a job board dedicated to all things STEM.